Why Join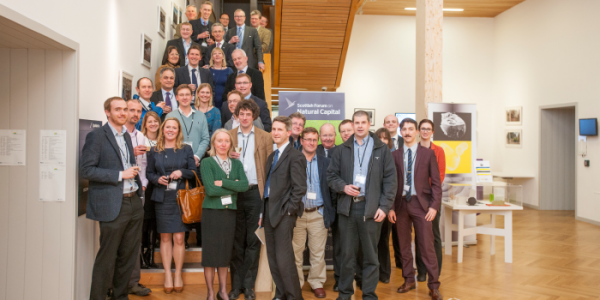 The Scottish Forum on Natural Capital membership includes private, public and voluntary organisations, below they explain their motivations for joining.
To register your organisation's interest in becoming a member please fill in the membership sign up form.
---
"Scotland's natural capital is priceless but unless we attribute a value to it we are in danger of taking decisions that fail to take account of the enormous social and economic benefits it brings.  SSE, Scotland's largest renewable generator, is therefore very pleased to become a member of the Scottish Forum on Natural Capital and we are looking forward to working with others to make sure Scotland's very special natural capital is protected and enhanced."
Gregor Alexander
Finance Director
SSE
---
"Scotland's farmers live and breathe natural capital – it is the foundation of their livelihood. It is essential that they get the support they need to deliver the various public goods that society wants, and credit for their efforts to do so. NFU Scotland has joined the Scottish Forum on Natural Capital so that it can work with other members to bring these aspirations to life."
Scott Walker
Chief Executive
NFU Scotland
---
"Balfour Beatty wholeheartedly endorses the Scottish Forum on Natural Capital, which is providing exemplary leadership in raising awareness of the importance of natural capital and the tools available to measure and mitigate the impact of economic activity on biodiversity."
Andrew McNaughton
Chief Executive
Balfour Beatty
---
"From our fantastic food and drink products to our world-leading tourism and renewable energy sectors, so much of Scotland's economy depends on Scotland's high quality and abundant natural resources. At Scottish Enterprise we recognise that our natural environment is fundamental to our economic and social wellbeing, and plays a valuable part in building a vibrant and sustainable Scotland. We look forward to working hand in hand with Forum partners so we can maximise opportunities and address our big challenges."
Steve Dunlop
CEO
Scottish Enterprise
---
"At last an organisation seeking to deliver for Scotland – land, water, people, place, nature, we all live here together."
Dr Dorothy Breckenridge
Director
C-N-Do Scotland
---
"We are delighted to be part of the Scottish Forum on Natural Capital, and welcome the initiative of the founding partners in setting it up. The Scottish Forum provides an opportunity for Scotland to lead the way in recognising the value of natural capital in decision-making, and has a particular role in engaging with and supporting business. SNH has led the development of the Natural Capital Asset Index for Scotland, and we look forward to working with the Forum to help to achieve the aims of the 2020 Challenge on Scotland's Biodiversity."
Ian Jardine
National Adviser on Environmental Policy
Scottish Natural Heritage
---
"Protection of the environment in which we live and operate is part of Mazars' values and principles and we consider it to be sound business practice. Care for the environment is one of our key responsibilities and an important part of the way in which we do business."
John McLeod CA
Partner
Mazars LLP
---
We are delighted to be part of the Scottish Forum on Natural Capital. As Scotland's largest firm of independent accountants we, and our clients, have a real interest in protecting and building the country's natural capital and we hope to play our part in this through our membership of the Forum
Sandy Manson
CEO
Johnston Carmichael LLP
---
Woodlands are a crucial componant of Scotland's natural capital but greatly undervalued in terms of their social and environmental worth. What is not measured is not usually valued so ICF is delighted to join the Scottish Forum on Natural Capital to help change that.
Shireen Chambers
Executive Director
Institute of Chartered Foresters
---
With a focus on environmental change, and in particular climate change, Sniffer is delighted to be part of the Scottish Forum on Natural Capital. We believe the Scottish Forum will play a vital role in developing our understanding of how we protect and improve Scotland's natural capital as members share perspectives and work together to take stronger action.
Ruth Wolstenholme
Managing Director
Sniffer
---
As a not-for-profit organisation dedicated to advancing sustainability in and through golf we are very aware of the important role golf can play in protecting and enhancing Scotland's natural capital. The 540 courses, found in villages, towns and cities in all corners of the country bring a diverse range of people into contact with all sorts of natural and semi-natural ecosystems. With golf also as one of the nation's leading economic contributors through employment and tourism, we are looking forward to working alongside other industries and organisations to help the sector make a significant difference for the future, and to demonstrate how natural capital can underpin business success.
Jonathan Smith
Chief Executive
Golf Environment Organisation
---
"The Cairngorms National Park Authority leads efforts to look after one of Scotland's most valued areas for nature conservation and rural tourism. Protecting and building on the outstanding natural capital of the Cairngorms for people and nature is core to our work so we are pleased to be part of the Scottish Forum on Natural Capital."
Grant Moir
Chief Executive
Cairngorms National Park Authority
---
"It is important that we are always looking for ways in which the value of the natural environment can be recognised, protected and enhanced; natural capital could very well be a tool to do just this.
However, there is a lot of work still to be done to ensure that natural capital is able to achieve its protective aims, and we are delighted play a part in considering that work through this new Scottish forum."
Carol Evans
Scotland Director
Woodland Trust Scotland
---
"Jacobs is delighted to be the 50th member of the Scottish Forum on Natural Capital. On a daily basis we support our public and private sector clients in enhancing the large stocks of natural capital which they hold and unlocking ecosystem service benefits for all.  We look forward to participating in the forum as it grows and develops"
Catriona Schmolke
Vice President
Jacobs UK Ltd
---
"The backdrop to Scottish tourism is our natural capital. Whether visitors are in urban or rural destinations, the industry depends on a clean and healthy environment in order to thrive and grow. We're delighted to support the Scottish Forum on Natural Capital."
Marc Crothall
CEO
Scottish Tourism Alliance
---
"Understanding the value of Scotland's natural capital is crucial to a sustainable future. We are learning more and more about how nature helps our economy, society and personal well-being' as well as providing crucial ecosystem services, from breaking down waste to supporting our cultural identity. But there remains much to learn; especially in terms of understanding ecosystem services from the sea. We need to know much more about how the environmental processes work that underpins these services, and how human impacts on the seabed and marine habitats: e.g. how fisheries, energy developments and/or pollution affect these services. There are also huge data gaps on how people value marine ecosystem services, both from an economic and socio-cultural perspective. As an interdisciplinary marine research institute we are looking forward to contributing to building this knowledge through this exciting initiative."
Professor Axel Miller
Acting Director
Scottish Association for Marine Science (SAMS)
---
"The natural capital metaphor puts the natural environment on an equal footing to all the other things that satisfy our needs and desires as a society. In making use of it, we must take care to make more of technical know-how and the values of ordinary citizens. We support the Scottish Natural Capital Forum because it is a meeting place for an extraordinary diversity of interests – from local to global."
Dr Bruce Howard
Co-Ordinator
Ecosystems Knowledge Network
---
"As a council we recognise the value of Edinburgh's natural environment to its residents and the wider world. Recent work by our Parks and Greenspace Service, for example, has demonstrated the value of our urban trees in limiting the worst effects of climate change as well as the value of our parks to the economy and in keeping people healthy.
"By joining the Scottish Forum on Natural Capital we aim to use our experience to influence national decisions impacting the environment, as well as nurturing our own natural assets, wildlife and biodiversity and conserving these valuable resources for generations to come."
Councillor Lesley Hinds
Environment Convener
City of Edinburgh Council
---
"Aside from our people, our greatest asset which we are blessed with in abundance is our natural capital. We must all work together to preserve, protect and enhance this, and to realise the social and economic value of our environment and natural resources"
Phil Prentice
Chief Officer
Scotland's Towns Partnership
---
"Natural capital is the foundation stone for all that is needed to sustain our lives. The James Hutton Institute is honoured be one of the founder organisations of the Scottish Forum on Natural Capital and we look forward to providing knowledge and advice as support the restoration and sustainable use of this precious resource."
Iain Gordon
Chief Executive (2010-2015)
James Hutton Institute
---
"HERE + NOW believes that strong placemaking comes from a genuine balance of people's needs with space for nature. As a Community Interest Company we work with people to explore and appreciate the natural environment around them, and our landscape architecture and urban design projects celebrate the value of natural places and processes."
Liz Thomas
Design Director
HERE + NOW
---
"ScottishPower is pleased to be part of the Scottish Forum on Natural Capital. As the world leader in wind energy, both sustainability and respect for the environment have always been part of our vision as a company. We therefore fully support the objectives set up in the Forum's vision and are willing to work in collaboration with other members and stakeholders to attain them."
Keith Anderson
Chief Corporate Officer
ScottishPower
---
"As commercial building consultants, we understand the importance of recognising the social and economic value of the environment. As well as identifying risks, we must seek out opportunities to adapt our towns and cities for our future needs. Whether its protecting and enhancing biodiversity during development or improving energy and sustainability performance in existing buildings, recognising the value and benefits imparted by natural capital improves the urban environment, creating green growth and liveable space."
Anne Johnstone
Partner
Malcolm Hollis LLP
---
"At Arcadis we understand the responsibilities we have to safeguard our planet so we keep sustainability front of mind and help clients achieve social and environmental goals."
Graham Hill
City Executive for Scotland
Arcadis
---
"AECOM is delighted to support the Forum's objective of enabling businesses and policy makers to make informed decisions about environmental impacts, to assess the financial and other benefits they obtain from Scotland's natural capital, and to make a concerted effort to protect it. This objective is fully aligned with AECOM's ethos of putting nature at the heart of decision-making."
Peter Skinner
Chief Executive, Environment & Ground Engineering
AECOM
---
"Valuing our natural assets is an important part of delivering a long term vision for sustainable development. We wish the Scottish Forum success in working to raise awareness of this and the broader role green tourism has in delivering positive change throughout the tourism sector."
Jon Proctor
Director
Green Tourism UK
---
"The new phase of human footprint on this planet is about the challenge of taking responsibility for the natural resources account we erased as humanity, and the necessary rebuilding of natural capital.
It is a a very critical but pivotal moment for innovation.
There is a great opportunity of knowledge and wisdom for humankind, in working in harmony with bio-systems in order to rebuild them."
Isabella Guerrini de Claire Ph.D
CEO
Aurora Sustainability  Ltd
---
"For over 20 years, we have provided facilities services to organisations – public and private – in traditional fashion. Whilst our industry has not been known for its innovative means, we believed this needed to and could be changed. We believed we could find methods, materials and machinery which would be more effective, more efficient, more eco-friendly and still be more economical.
With this in mind, over the past two years, we have added new kit and materials to our portfolio which specifically offer more environmental ways to tackle winter gritting, land clearance, drainage issues and more. And, we've only just begun!"
Alan Stevenson
Managing Director
Inex Works Group
---
To register your organisation's interest in becoming a member please fill in the membership sign up form.